LSU 26, Auburn 21
Since I'm "late to need" on this edition of the
Soapbox
, I'm going to skip all the obvious stuff. I'm not going to recap the scary first half, the fateful concussion, the details of the amazing rebirth of J. Lee, the Heisman-like performance of Charles Scott, or the ballsy play calling of Miles and Crowton.
Instead, I'm going to focus on one thing. What, if anything, do we know now about the LSU quarterback situation. And who should "start" against Mississippi State this weekend.
All of the positive attention is focused on Jarrett Lee right now. And he deserves it. He had a fantastic second half after stinking up Jordan-Hare in the first.
Any LSU fan paying attention was cringing during halftime at the thought that Miles and Crowton might actually decide to play Lee again after he threw that really bad pick-six. That was a horrid pass. Face it - we were all calling for his head and hoping like hell Jordan Jefferson was maturing fast!
But Lee was a completely different QB in the second half. His throws had zip and purpose and his confidence was sky high. What's more, Lee looked like he'd been there before. Many times before, in fact. He looked poised and completely in control. And he threw some very nice passes.
So Lee is the man now, correct? Well, not so fast.
Jarrett Lee had a great second half. That does not erase his first half. Nor does it erase the fact that he's still a redshirt freshman.
Lee's second half also doesn't erase the fact that Andrew Hatch, while not lighting up the night with his passing, was playing a pretty good football game on his own, particularly with his legs. Hatch ended half a game with 40 net yards rushing and some of those yards involved some pretty nifty moves and very good downfield vision. Take away two sacks, and I think his total is closer to 51 yards.
So, if Hatch is healthy on Saturday, who gets the start? And does it matter?
I'll answer the second question first. Yes. It does matter. It's not everything. If both quarterbacks are healthy, they likely both get equal PT. But the starter is the front runner. He's the guy the coaches have the most confidence in. And that WILL matter to both of these guys. Maybe most to Jarrett Lee. If Hatch is full speed and Lee gets the start, the coaches are telling Lee that he's stepped into the next level. It just may be the confidence-building event that turns this redshirt freshman into an above average SEC quarterback by season's end.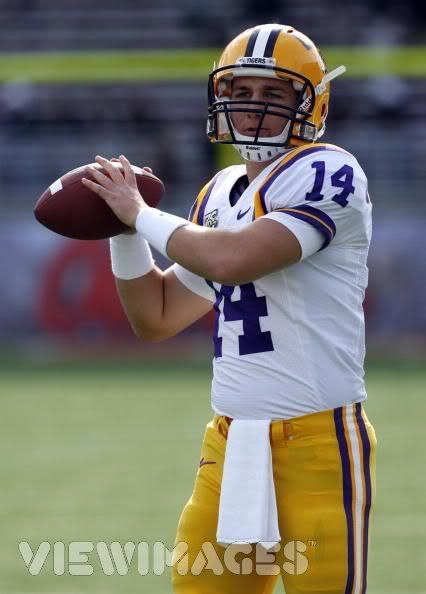 Of course, it also tells Andrew Hatch that he's had his chance, and as luck would have it, his injury gave Lee some daylight and the kid took advantage. Hatch has to know that Lee's arm is stronger and his upside is higher. So it won't come as a surprise to him, but he'll still be disappointed at losing his chance to win the job outright.
So, yes. I think it does matter. It's not everything, but it's certainly important.
Who starts? I think it's Lee. Two reasons.
First, LSU needs a deep passing threat from it's QB more than it needs good running skills. Lee runs well enough to evade the sack. And the LSU RB cadre is good enough (understatement) to carry the rushing game.
Secondly, as I hinted before, I think Lee has earned the right at a chance to take the job for good. Hatch has had three starts. He's looked adequate, if wanting on throws past 15 yards. Now Lee gets his shot.
But this opens up another idea. If Hatch is hurt, what about Jordan Jefferson? Does he get significant PT?
I think he does if LSU puts the game away in the third or fourth quarter by 3 touchdowns or more. If not, then I don't think Miles and company will be able to risk the game in the hands of a kid who more than likely does not have the full offense at his disposal.
If Mississippi State keeps the game within reach, say less than 17 points, I don't see Jefferson sniffing the field until the final minutes, if at all.
So, the most important thing that can happen, assuming Hatch is injured, is that LSU crushes Mississippi State on Saturday night. Because, first of all, it would be fun to watch. And, second of all, if Hatch is injured, Jefferson needs some quality PT against an SEC defense.
Back to Lee. What do I expect? I expect some turbulence. I hope for the best, but I expect he's going to throw some more interceptions, and mishandle a few game situations, and generally make some folks wonder why they were so high on him.
Then, he's going to play lights out, and throw 40 yard laser beams to LaFell and Byrd and Toliver in full stride. All in the same game. Because that's what young QBs generally do. They play inconsistently.
It's up to the coaching staff to keep his head on straight and call the plays that help him succeed the most.
I'm optimistic about Lee. I have a feeling he might take advantage of this next game to put some serious distance between himself and Hatch.
But I'm not expecting it. Instead, I'm expecting some more turbulence.
And I'm expecting this fella to smooth all that out like a freight train on a copper penny...