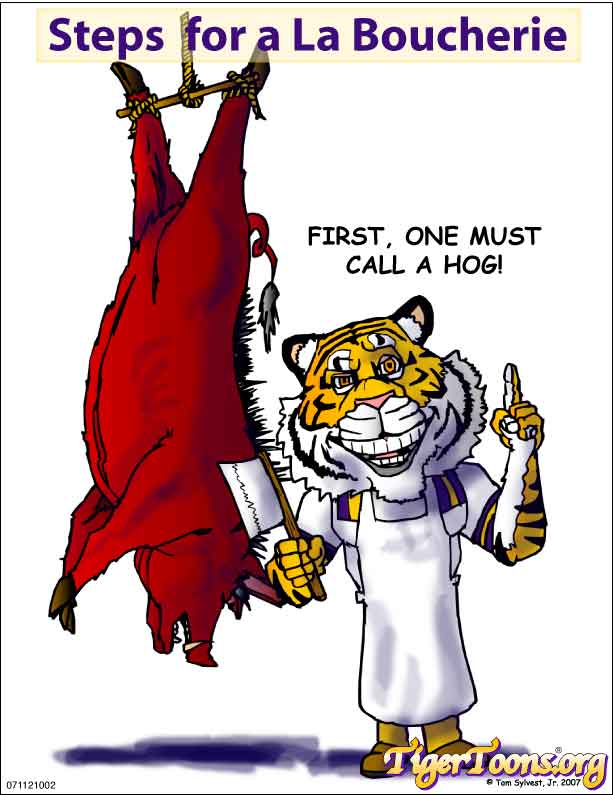 I wasn't planning to make a prediction for this game.
Oh, well.
Thing is, this score just keeps sticking in my brain. So, why not.
I didn't do so well with the Ole Miss prediction, but we won so who cares, right?
Here's how I see this one.
INTANGIBLES
. It's senior day, in Tiger Stadium, and LSU is the #1 team in the country and playing the next three games for all the marbles. Arkansas, on the other hand, simply wants "The Boot" back. Oh, and Houston Nutt may or may not be hitting the road at the end of this season.
LSU +1LSU O vs HAWGS D.
The Tigers have played MUCH better defenses this year and scored well. I don't see the Hawg defense stepping up for an entire game. LSU won't score at will, but they will be able to put an average number of points on the board, if not slightly more. Fortunately for LSU, "average" is 39 points.
LSU +1LSU D vs HAWGS O.
This is the big question. Will LSUs slightly banged up, underperforming (of late) defense be able to keep McFadden from putting up a 300 yard game? Will Casey Dick be able to repeat his Miss St passing performance? He hasn't been a prolific quarterback, and he hasn't been sacked much this year. Of course, he also hasn't had a single positive rushing yard all year. Look for this to be an even matchup, with a couple of turnovers and a couple of big plays for McFadden.
EVEN
.
SPECIAL TEAMS
. Tough to say. Besides Colt David and Fisher, LSU's special teams have been average at best and scary at times. Holliday's return for a TD against Ole Miss was a great change of pace. Maybe we'll see something like that again. Arkansas doesn't seem to have especially great special teams, either. Although, Felix Jones HAS run two kickoffs back for TDs.
EVEN
.
LSU should win this game, but unless the defense steps up and plays a game close to their performances against VT or MSU, expect Arkansas to find the end zone.
PREDICTION
: McFadden 125 yards, Jones 65 yards, Dick 100 yards, 2 interceptions, 2 sacks.
LSU 41, Arkansas 35.