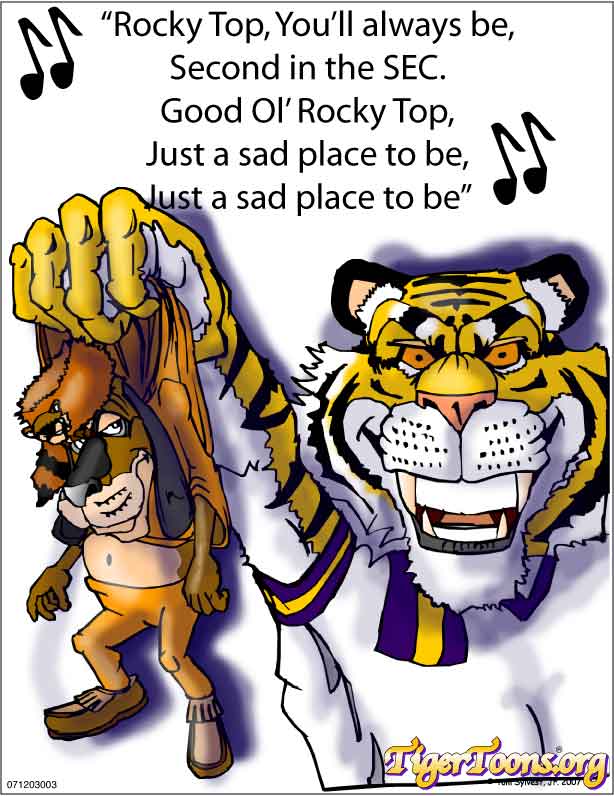 I know. You've all, like, SOooo moved on.
For now. But that'll change. Sooner than you think.
33 days is a long, long time. The Saints suck. LSU men's basketball is - well - rebuilding, let's say. LSU women's basketball is strong, but can't fill the void. The media is just about done wringing all the blood from the "what a screwed up year in college football" turnip.
You're about two to three days from boredom. A week tops. Can you smell it? Smells like an empty bottle of Jack Daniels in a bowl of crushed Cheetos.
Boredom will cause you to finally begin to wonder about Ohio State. You'll lose that exhuberant over-confidence that the SEC will automatically trounce the Buckeyes for the ninth straight bowl game matchup, and you'll start wondering, doubting, fretting. And that will lead you to try to remember the SEC championship game and the state of LSU's team at the end of the season. 21-14. Was it that close a game? Can't really remember.
You'll try TiVo, but your wife - sick of the game taking up 8 gigs of HD memory - has rededicated those precious hard drive sectors to some assinine Oprah episode. Gaddamit!
So you'll come crawling. And I'll be here. Just click on the Tennessee label. Your long-term memory, slightly spun in hues of purple and gold, awaits.
Consider this my Christmas gift to you. You're welcome in advance.
LSU's Offense vs. Tennessee's Defense
Overall, LSU's offense rocked Tennessee's D, particularly in the first half. Give the Vols credit - they were able to force LSU to kick three field goals (only made two). And the Tigers stimied themselves with ill-timed penalties (7 in the first half alone) and some really stupid mistakes, like Keiland Williams reversing field on a run around the end and turning a seven yard loss into a twenty-yard loss, and getting hurt in the process. Overall, the Tigers had almost 300 yards of offense in the first half but only 6 points. Had they been able to resist making stupid errors, saved their timeouts for something more important than preventing delay of game penalties, made that fourth and two conversion, and executed inside the Red Zone a bit better, they could have EASILY taken a 21-7 lead into the locker room - EASILY. But that would be too comfortable. This team? They don't do comfortable any more. Stress junkies, this team.
The offense came out gunning in the second half. Perrilloux had two long passes, first to LaFell on a scramble, then to Byrd a few plays later for the TD. Next possession, the offense was driving again, but one too many "Holliday up the middle" plays resulted in a bad fumble around mid-field. For the rest of the game, the offense basically stalls due to an interception and what appeared to be conservative play calling, possibly due to Perrilloux having a cut hand? Unsure.
As far as individual effort goes, Ryan Perrilloux gave notice that, should he decide not go back to the Varsity and play "Who You Lookin' At" with the bouncers, he will be a bad ass quarterback next year. He played very well and, but for one interception and a couple of overthrown long balls, was very accurate. Hester turned in his normal hardhat, lunchpail performance of running and blocking and tackling on special teams. Byrd had 4 huge receptions for 72 yards and a touchdown. Both Williams and Scott had big plays. Keiland is hurt, no word yet on how bad.
LSU's Defense vs. Tennessee's Offense
The Tiger defense played a great game, particularly in the first half. The Vols sustained one small drive in the first half for a TD, but otherwise had trouble running and passing against the Tigers. Tennessee had better luck moving the ball in the second half. However, the Vols' perfect game (no penalties, no turnovers) ended with two interceptions (one by Zenon for a touchdown (2pt good), and one in the final minutes by Beckwith). Tennessee also missed a longish field goal.
Overall, my impression was that Ainge had FAR too much time to throw the ball most of the game. When the Tigers pressured him, he made mistakes. But there were times where Ainge had a good seven seconds to throw. That is FOREVER.
Also, LSU's defense came out of this game a bit worse for the wear. Dorsey sat out large parts of the game, Beckwith injured himself again, Stelz is supposedly hurting a bit, and there are others as well.
SPECIAL Teams
Colt David and Patrick Fisher saved the Tigers in this game. Although David missed one of his three FG attempts, he was rock solid on the other two plus his one extra point attempt. And Patrick Fisher had at least two CLUTCH punts in poor field positions that gave LSU's defense some room to operate and saved the day. Both David and Fisher deserve their first place SEC spots. We'll all be missing these two men next year.
Coverage was a bit better this game, with only one long kickoff return by Tennessee that the defense proceeded to nullify by forcing a Volunteer punt.
Takeaways
1.
LSU continues to play with a ton of heart and a ton of mistakes. There is no quit in this team. There is also evidently no end in their ability to stall a drive with stupid, unforced errors. Have we had a game without a sideline warning? Illegal procedure penalties at this point in the season? And can we save a timeout or two for something more useful than stopping the play clock to avoid a delay of game infraction? It takes LSU FOREVER to get plays in, check off at the line of scrimmage, then finally snap the ball. Flynn has trouble with it. Perrilloux, because he has played less, has even MORE trouble.
2.
Ryan Perrilloux has the potential to make Jamarcus Russell look like an average LSU quarterback. He has a gun. He has legs. He looks to have a lot of desire and toughness. I'm told he's plenty smart. If we play both Flynn and Perrilloux, similar to what we did against MSU and VT, we could see an offensive performance on par with those two games, maybe better. After all, Perrilloux has now started and played two complete games this season, one against a tough SEC East champ. If Flynn is healthy and the silly mistakes are all but eliminated, the BCS championship could easily be the 2007/2008 Tiger offense's signature game.
3.
Contrary to what it looks like from a statistics standpoint, LSU's defense remains extremely solid. The first half of the Tennessee game is a great case in point, where LSU held the Vols to less than 100 yards total offense. The only reason the Vols were able to move the ball more in the second half is because they HAD the ball more. LSU's offense stalled and turned the ball over, giving the Vols more chances to find something that could work. LSU's only weakness on defense, and it's really not THAT weak, appears to be Jonathan Zenon and two young Nickle/Dime backs. Otherwise, Ohio State will be hard pressed to find something they can exploit.
4.
Believe! This group of seniors, this coaching staff, this fan base, our new Mike. Believe! Every game full of excitement and drama. Many fourth quarter heroics under extreme pressure, even on the road. Believe! Ohio State has a good defense in an average conference and against a large slate of nobody teams, like Akron. Did I spell that right? Yeah, I did. Akron. Believe! LSU has played tougher teams than Ohio State this year and beat them. Believe!
I go night, night now. Neenee-naanaa. Sleep tight, Tiger Fans.
And, if you're still bored, even after the pure gold above, I recommend you subscribe to the GeauxZone on LSUSports.net and rewatch the Florida, Auburn, and Alabama games. But you might want to get your doctor's permission first. Even knowing how they turn out, they're still a load on the heart.